Are You Prepared for New COVID-19 Variants? Restock Your N95 & KN95 Masks Now
Despite the lift on mask mandates throughout the entire U.S., the pandemic is not over. In fact, hospitalizations are going up as increasingly contagious variants continue to arise. In particular, the Omicron BA.4 and BA.5 variants poses a new risk. What are we facing according to the current COVID-19 data? What's the best way to protect yourself, an N95 mask, KN95 mask, or KF94 mask? All are reportedly of the highest quality, providing the best filtration and efficiency – so what's the difference? Let's discuss.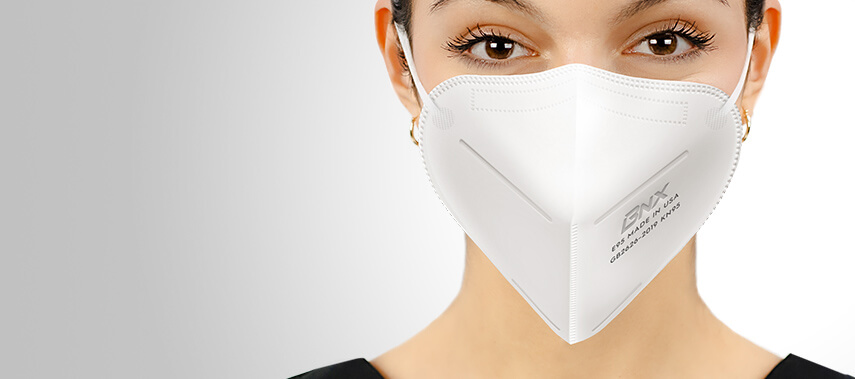 Surging New COVID-19 Variants
We've been through many new variants. The Omicron COVID-19 variant (BA.1) was identified first in South Africa late last year before spreading to the U.K. and beyond. Now we must face surges in the Omicron sub-lineage. Since BA.2 was first identified in January, it's now become the dominant strain in the U.S., among other countries. At the time of this writing, another subvariant – BA.2.12.1 – is responsible for close to 50% of all cases with even newer BA.4 and BA.5 variants rising as well.
It appears that Omicron subvariants are more infectious than previous strains. They spread more easily, yet they may lead to milder infections. However, people have been hospitalized and even died due to these strains. The CDC notes that we simply don't yet have the data to completely understand the potential damage that this variant can cause. We've seen that increases in cases can lead to a surge in hospitalization and death, so it's too soon to write off this variant as any less deadly than those previous.
It doesn't stop with BA.2. Recent studies point to new variants, BA.4 and BA.5, as being even more transmissible than their predecessors. The studies show that these variants may be able to bypass immune protection, regardless of vaccination status or previous infection.
Then there's the question of what makes these new subvariants so contagious. Researchers note that over 30 of Omicron's mutations reside on that protein, which may have led to an increase in transmissibility. As such, Omicron is better able to elude the body's immune responses. People who have been previously infected but have not been vaccinated face a higher risk.
How Can You Protect Yourself from Omicron and BA.2?
Experts agree that an N95, KN95, or KF94 mask provides the best protection from COVID-19. Although mask mandates everywhere – on the state level and nationally – are no longer in place, you can still choose to wear a mask. Wearing an N95 mask or KN95 mask is the best way to protect yourself and your family, as well as the rest of the public. Brand matters, too – BNX, 3M and Moldex are among the top suppliers thanks to their quality. It's best to wear masks when in enclosed spaces in the public, as well as during outdoor events that are heavily populated.
In addition, you can still continue the best practices that the CDC has recommended since the start of the pandemic. Wash your hands frequently and avoid touching your face. Social distance at least six feet whenever possible.
Lastly, vaccination is still the most effective way to prevent yourself from severe illness or death. Wearing a well fitting high grade mask (such as an N95 mask respirator, KN95 mask or KF94) is the most effective way to prevent infection. While it is still possible get COVID-19 after vaccination and while wearing a mask, the vaccines and high grade masks are still the best combination to use against fighting the disease.
What's Best: N95 Mask, KN95 Mask, or KF94 Mask?
Cloth masks aren't protecting you against COVID-19 or any of its variants. Although cloth masks do filter out large droplets, they don't stop smaller aerosols that can contain the airborne virus. Instead, cloth masks allow these tiny particles into your nose and mouth, making the mask essentially useless – even if the cloth is thick. This is especially true for Omicron and its variants, which are extremely transmissible.
This is why experts recommend a KF94, KN95, or N95 mask. Specialists agree that all three offer effective protection against aerosol particulates, stopping them from both exiting and entering the mask. These masks are made from layers of high-tech material that trap and filter particles.
Some masks also have a filter that's been electrostatically charged to attract and then trap any particles. Regardless of whether they have the filter or not, each mask is made with material that makes all the difference compared to cloth masks. If you put it under a microscope, you'll see how dense and tangled the fibers are, making the mask excellent at trapping droplets and particles.
So – what's best? N95 masks? KN95? KF94? The biggest difference between these masks is what regulatory body tests and oversees their effectiveness. Let's break it down.
N95 Masks
A division of the Centers for Disease Control and Prevention, the National Institute for Occupational Safety and Health (NIOSH), regulates N95 masks. The "95" in the name refers to the fact that this mask filters 95% of aerosol particulates. The vast majority of N95 masks include two elastic bands that wrap around the head. If you see an N95 mask with ear loops, it's likely fake, since it lacks the tell-tale head straps. It's important to be wary of fake N95 masks, as they've become increasingly popular and don't offer the same regulated control as true N95s. NIOSH regulated masks at a flow rate of 85l/min with a required filtration efficiency of 95% and a pressure drop (breathability rating) of 35mmh20 or less.
KN95 Masks
The KN95 mask is regulated by the Chinese government and meets Chinese GB2626-2019 mask standards. Like the N95, it filters 95% of aerosol particulates. It also looks similar to the N95 mask, but it has ear loops instead of head straps. Unfortunately, as many as 60% of KN95s in the U.S. are counterfeit, according to one study. Still, you can find legitimate KN95 masks in the U.S. You may even prefer them because they come in small sizes and the ear loops may feel more comfortable than the head straps of the N95 The GB2626-2019 standard calls for testing flow rate of 85l/min with a required filration efficiency of 95% and a pressure drop (breathability rating) of 210 pascals (~21mmh20) or less.
KF94 Masks
KF94 masks come from South Korea. The name itself defines the mask – "KF" refers to the Korean filter, and "94" refers to its 94% particle filtration. Since the masks are so intensely regulated in South Korea, there are fewer counterfeits in the U.S. Some users report that the KF94 is more comfortable because it has more space between mask and mouth. It is also available in child and adult sizes.
How to Choose the Right KF94, KN95, or N95 Mask
Ultimately, the effectiveness of your mask – whether you choose a KF94, KN95, or N95 mask – comes down to fit and authenticity. The mask should fit tightly against the face, creating a seal without gaps. If it doesn't, particulates can get into those gaps and potentially infect you.
You'll also need to avoid counterfeit masks. Fake N95s, KN95s, and KF94s are fairly common. A brand might claim that its masks are one of the above highly-regulated versions, when in reality, the masks haven't gone through the same inspections and regulations as the real thing. Some manufacturers even add an approved brand name to their imitation masks. So – how can you avoid counterfeits?
Choose Reputable Sellers
Where you purchase your N95 masks matters. BNX, 3M, Honeywell and Moldex are some of the highest quality brands, especially when it comes to filtration and efficiency and pressure drop with BNX and 3M shining particularly well in the pressure drop category. BNX masks, in particular, are made here in the U.S. You can avoid counterfeit masks by going straight to the source and purchasing your N95 mask from BNX by clicking here.
When purchasing an N95 mask or KN95 ensure that the retailer you are purchasing from is listed as an authorized reseller or distributor on the manufacturers website. If you have any doubt, you should contact the manufacturer through their email, phone or form on their Contact Us page.
Check the CDC List
The CDC keeps a list of non-NIOSH-approved N95s, KF94s, and KN95s. These masks have gone through filtration testing. The site also includes a list of known counterfeits that you can avoid. The CDC continuously updates the list, so you can turn to it each time you need to buy new masks.
Consider the Label and Packaging
Regulators require that N95 and KN95 masks have certain text stamped on the front of them. N95 masks are labeled with "NIOSH," a "TC approval" number, model numbers, the designation (e.g., N95/N99/etc.) and the company name. The lot# can be printed on the mask or on the packaging. Meanwhile, KN95s are stamped with the model, manufacturer name, and the number and year of publication of the Chinese respiratory protection standard combined with the filter classification (example: GB2626-2019 KN95).
While KF94 masks aren't stamped with text, their packaging should include manufacturer, distributor, product name, expiration date, and lot number. It should also say "Made in Korea." It's worth noting that any N95 or KN95 that has a fancy design is likely fake.
Unfortunately, the pandemic continues to bring on new COVID-19 variants. While the BA.2 subvariant is highly transmissible and potentially dangerous, there are steps you can take to protect yourself. Aside from vaccination, the best thing you can do is wear an N95 mask or KN95 mask. Be sure to get a legitimate mask from BNX, which is made here in the U.S., so that you enjoy the highest quality filtration and efficiency.